Online end-user survey on Food Traceability
Posted by on 20 January 2015 13:45
---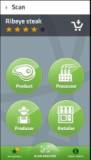 Would you like to know more about the meat products you buy? Do you think that meat products that can be traced from farm to fork are safer to eat?

Whether or not you have strong opinions and concerns about food safety, and whether or not you already know how technology can be used to trace our food products from farm to fork, then we would like to get your input to the ebbits food traceability application. Please take 2 minutes to fill out this 10 question survey online.

Please be sure to click on "Done" when you have completed the survey.

If you are interested in more background material you can download the detailed Food Traceability scenario here.
---
Extended News
---
Please evaluate the following statements on a scale from strongly disagree to strongly agree. Please answer all the questions spontaneously so your answers express your first impression.

If you prefer, you may download the survey as PDF document which you can then fill out on paper, scan and email to: tfs@in-jet.dk. To download the survey click here.