Hi, can I disturb you for one moment?
Posted by on 22 January 2015 12:38
---

Do you know anything about the meat you buy? With the ebbits app on your smartphone, it becomes possible to get information on the origin and upbringing at the farm; the transport to the slaughterhouse and the retailer. You can read about the meat cut and the best way to prepare it.

Louise and Trine from In-JeT spent a few hours in the cold meat section to ask questions about the consumer app that ebbits has developed for tracing beef from farm to fork.

---
Extended News
---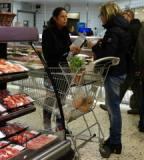 Customers expressed interest in getting more information about meat products and especially information related to animal welfare. In particular, the origin, medication, feeding information (including the use of GMO) and live transport time were information that customers would like to have. Also, the possibility to receive a message if your purchased meat is being withdrawn due to health risks, received positive feedback.